Forums
>
The Wizengamot
(
Archive
) |
Help Desk
(
Archive
)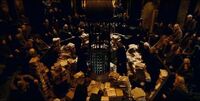 Welcome to the Wizengamot! The Wizengamot is a site-wide discussion area meant for topics concerning the Harry-Potter-Lexicon. Please feel free to post questions, suggestions, and comments not related to specific articles. Questions related to specific articles should be asked on the talk page for that article.
PLEASE NOTE: THIS IS NOT A GENERAL HARRY POTTER DISCUSSION FORUM.
This forum is dedicated to questions, suggestions and comments related to the running of the wiki and its contents. It is not to be used for general questions about the series, to discuss anything outside the running of the wiki, or for speculative discussions. Any such topics will be subject to deletion.
If you wish to make general questions about the series, feel free to do so at Wikianswers.
View recent changes for this forum
---
Ad blocker interference detected!
Wikia is a free-to-use site that makes money from advertising. We have a modified experience for viewers using ad blockers

Wikia is not accessible if you've made further modifications. Remove the custom ad blocker rule(s) and the page will load as expected.