Study of Ancient Runes

Class information
Professor
Classroom
Required textbooks
The Study of Ancient Runes (commonly shortened to Ancient Runes) is an elective course at Hogwarts School of Witchcraft and Wizardry, that can be taken by students third year and above. It was taught by Professor Bathsheda Babbling during the 1990s at least [1] and it is the study of runic scriptures, or Runology. Ancient Runes is a mostly theoretical subject that studies the ancient runic scripts of magic.
Class materials
Edit
Words learned in this class
Edit
Only two words and their English translations are known. Hermione mixed these two words up on her Study of Ancient Runes O.W.L. exam.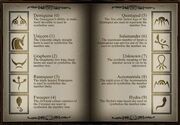 Required reading
Edit
Known O.W.L.s
Edit
Behind the Scenes
Edit
Appearances
Edit
Notes and references
Edit
↑

According to a note on J. K. Rowling's site, Bathsheda Babbling is the current Ancient Runes teacher

↑ According to his father, Bartemius Crouch Sr., he obtained twelve O.W.L.s
Ad blocker interference detected!
Wikia is a free-to-use site that makes money from advertising. We have a modified experience for viewers using ad blockers

Wikia is not accessible if you've made further modifications. Remove the custom ad blocker rule(s) and the page will load as expected.