250px

Hippogriff

Species information

Sentience

Sentient

Eye colour

Orange

Native range

Europe

MoM Classification

XXX
"Easily offended, hippogriffs are. Don't never insult one, 'cause it might be the last thing yeh do."
—Rubeus Hagrid talking to the class about Hippogriffs
A Hippogriff is a magical creature that has the front legs, wings, and head of a giant eagle and the body, hind legs and tail of a horse. It is very similar to another mythical creature, the Griffin, with the horse rear replacing the lion rear. Hippogriffs have cruel, steel-coloured beaks and large, brilliantly orange eyes. The talons on their front legs are half a foot long and appear deadly.
The breeding of fancy Hippogriffs is an established wizarding career, with known breeders including Newton Scamander's mother. Images of said fancy Hippogriffs are sometimes put onto calendars.
Etiquette
Edit
"Now, firs' thing yeh gotta know abou' hippogriffs is, they're proud. Easily offended, hippogriffs are. Don't never insult one, 'cause it might be the last thing yeh do. Yeh always wait fer the hippogriff ter make the firs' move. It's polite, see? Yeh walk towards him, and yeh bow, an' yeh wait. If he bows back, yeh're allowed to touch him. If he doesn' bow, then get away from him sharpish, 'cause those talons hurt."
—Rubeus Hagrid teaches his first class about hippogriffs.
When Humans approach Hippogriffs, a proper etiquette must be maintained to avoid danger. Hippogriffs are intensely proud creatures, and an individual must show proper respect by bowing to them, and waiting for them to bow in return before approaching. Eye contact should be maintained at all times, without a single blink. The Hippogriff should be allowed to make the first move as this is polite. If offended, it may attack. Hippogriffs are tameable, but only by experts in their care (such as Rubeus Hagrid, Care of Magical Creatures Professor and Gamekeeper at Hogwarts).
Although proud, Hippogriffs can also be fiercely loyal and protective of those who have earned their trust, as demonstrated by Buckbeak on at least two occasions; when he attacked Severus Snape in defence of Harry Potter during the Battle of the Astronomy Tower, and again when he led Hogwarts' Thestrals in attacking Voldemort's giants during the Battle of Hogwarts.
The diet of the Hippogriff consists mainly of insects, birds and small mammals such as ferrets. They will sometimes paw at the ground for worms if no other food is readily available.[1] When breeding, Hippogriffs build nests on the ground, and lay only a single, fragile egg. The egg usually hatches in twenty-four hours. Infant Hippogriffs are capable of flight within a week, but it takes many months before they are strong enough to accompany their parent on long journeys.
Protection from Muggles
Edit
Owners of Hippogriffs are required by law to cast a Disillusionment Charm on the creature every day to prevent it from being seen by Muggles.
Hippogriffs at Hogwarts
Edit
A
herd
of Hippogriffs are kept at Hogwarts School of Witchcraft and Wizardry, and Rubeus Hagrid used them in his first Care of Magical Creatures class in
1993
.
[HP3]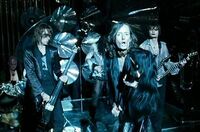 Other appearances
Edit
Etymology
Edit
Derived from the Greek word "hippos" meaning "horse" and the magical creature known as the griffin. In this case, it has the body of a horse as opposed to a lion, but keeps the head of an eagle.
Appearances
Edit
Notes and references
Edit
Ad blocker interference detected!
Wikia is a free-to-use site that makes money from advertising. We have a modified experience for viewers using ad blockers

Wikia is not accessible if you've made further modifications. Remove the custom ad blocker rule(s) and the page will load as expected.